Attention A T users. To access the menus on this page please perform the following steps. 1. Please switch auto forms mode to off. 2. Hit enter to expand a main menu option (Health, Benefits, etc). 3. To enter and activate the submenu links, hit the down arrow. You will now be able to tab or arrow up or down through the submenu options to access/activate the submenu links.

Rehabilitation and Prosthetic Services
From Coma to the Festival Stage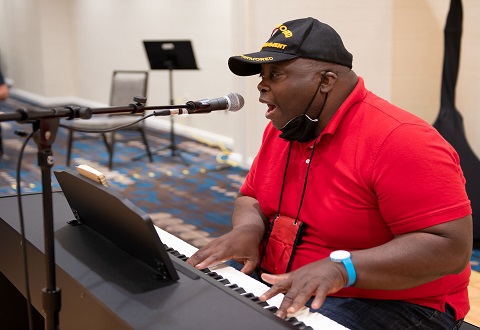 By John Archiquette
Tuesday, June 7, 2022
Jackie Williams remembers waking up from a coma on his way to the morgue. After battling COVID-19 for over six months, he was declared dead in August 2020.
Life before his coma was a forgotten memory. "I remember faces, but I couldn't remember any details about people," he said. He didn't remember his wife, his children and many of the people and things he loved.
Over the next 18 months, the Army Veteran would relearn to walk, talk and breathe. Williams would also need to rediscover the power of love, family and music.
When Williams finally awoke from a coma, he was a shell of his former self, losing over 140 pounds. Months of being on a ventilator meant he was unable to speak and when it was removed, even simple conversations left him winded.
Rediscovering the Music
When his family brought him home, Williams noticed a keyboard in the room. "Who plays?" he asked his wife. "You do," she said. "And you sing."
Williams was a self-taught pianist, singer and six-time winner of the National Veterans Creative Arts Competition. His wife had to show him videos of himself performing to convince him. "I couldn't believe it," said Williams. "I just didn't hear the music. She told me I had to sit down and play again, and I just didn't want to."
At his wife's insistence, he practiced. "I don't know what happened, but finally I hit a chord," he said. "It was an e flat. I just kept banging on that. Then little by little, it started coming back to me, and I had a song. My fingers knew where to go."
When Williams returned to the West Haven VA Medical Center, his music therapist reminded him about the National Veterans Creative Arts Competition. "I just didn't think I was ready," said Williams. According to Williams, COVID-19 had taken a toll on him, mentally and physically.
Facing Crossroads – Williams Chooses Church and Music
Unlike musicians who receive lessons at a young age, and unlike some gospel musicians and preachers who have early roots in the church, his path started much differently.
At 17, Williams was a young MLB prospect, but struggled to stay on the right side of the law. "The night I got drafted by the Montreal Expos, I robbed a liquor store. I got caught, got arrested and went to jail. Williams said the judge told him, 'You can go to prison or join the Army.' Williams chose the Army.
In boot camp, Williams found a passion for church and music. "When all the other soldiers were going to the clubs, I was in the rec room, practicing piano."
Road to Recovery
In his post-COVID music therapy sessions, Williams struggled to find his voice again. Months on a ventilator had left him with a hole in his throat, a scar he still bears today. While it took him days to speak again, it was weeks before he could sing. "The hardest part was catching my breath when I was singing," said Williams. "COVID had taken so much from my lungs." But with the encouragement of his wife, Williams found the motivation to practice.
While he says he still finds himself winded after a long or exerting song, his vocal endurance and range has improved to pre-pandemic levels according to observers.
Regaining his ability to play piano was a struggle, yet Williams said his biggest challenge was finding the courage to perform again. With the help of therapists, his comeback was in sight. Williams learned to play again, just as he had done years before. Again, his wife and VA creative arts therapists encouraged him to get on stage, and he decided to compete. All he needed was a song.
The Big Comeback
In the midst of the nightmares Williams endured during his coma, he believes God was speaking to him. "He had more for me to do here on earth," said Williams. "I needed to make sure I was doing a better job of bringing love to the world."
Love - it was one of the most poignant messages Williams wanted to convey through his music.
It was from another musician named Jackie that Williams got his song: Jackie DeShannon's 'What the World Needs Now is Love.'
"I heard the song on television one night, and I knew this was it," said Williams. "The song spoke to me, and when I heard it, it was like hearing it for the first time." Through this song, Williams would win 1st place in the national competition and make his return to the National Veterans Creative Arts Festival.
"It was really healing for me to come to the event this year," said Williams. "Everyone reintroduced themselves to me and remin
From Coma to the Festival Stage, Love of Music Brings Jackie Williams to Life
d me what I meant to them and the festival. All the Veterans and artists, it's like a brotherhood. It's our military connection that brings us together, but the music takes it deeper: it ties it to our soul."
As Williams walked onstage for his rehearsal at the festival, several performers watched backstage. Veteran artists gathered to support him and hear the return of the acclaimed tenor.
After a stunning rendition, Williams was greeted with handshakes and applause from his fellow performers. The man who had beat COVID-19 and cheated death had found his smile and music once again.
The National Veterans Creative Arts Competition & Festival recognizes the therapeutic role of the creative arts.Veterans who showcase their achievements in the festival are selected gold medal winners of national art, music, dance, drama and writing competitions in which thousands of Veterans enter from VA facilities across the nation
return to top